This raw loaf bread has a spongy texture very similar to traditional wheat bread because of the psyllium husk which helps to bind the ingredients and creates volume.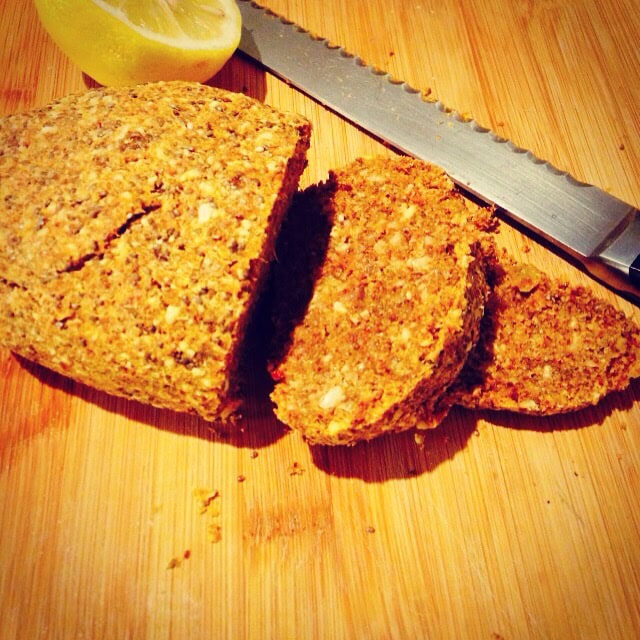 There is nothing like fresh out of the oven bread on a chilly day. Most raw bread recipes produce breads that are quite dense like a quick bread or manna bread.  Find the recipe inspiration on the Thermonix site. Use this raw loaf bread recipe to make our raw vegan blt or with any nut or vegetable spread.
Psyllium does not just add texture, it has a number of health benefits as well. It is a soluble fiber that improves elimination (both constipation and diarrhea), stabilizes blood sugar, and has prebiotic effects. The only caveat is that for some people with sensitive digestive tracts, psyllium can be too harsh. Consuming the supplement in moderation is critical. Although it may be tempting, you will not want to eat a whole loaf in one sitting.
Starting this recipe at 145°F in the dehydrator for an hour will allow the bread to develop a crust without destroying the enzymes in the loaf for raw foodies. If you are not raw, this can also be a cooked loaf baked in an oven on a low temperature. You will need to keep an eye on the loaf and test with a toothpick because different ovens give different results in baking.
Raw Loaf Bread
Prep Time

30 min

Cook Time

10 hr

Total Time

10 hr 30 min

Yield

2 small loaves

Energy

1,238 cal
Ingredients
1½ c raw almonds
¾ c raisins (or dates)
¾ c ground flax seed
¾ c psyllium husks
2½ T chia seeds
1½ c onion (chopped)
2 cloves garlic
½ lemon (peeled and seeded)
2 whole sun-dried tomatoes
1½ tsp salt
Instructions
1
Put almonds and raisins/dates into a bowl and add water to soak for a few minutes or more. I soaked them while preparing the other ingredients. By the time we add these to the food processor, they'll have soaked long enough.
2
Add flaxseed, psyllium, and chia to a food processor. Grind. Remove from food processor and set aside.
3
Put onion, garlic, lemon, sun-dried tomatoes, and salt in food processor.
4
Drain the almonds and raisins and drain excess water. Add these to food processor and mix. Scrape the sides of bowl and repeat until thoroughly blended.
5
While running the food processor, add the reserved dry seed mix through the hole until a dough forms.
6
Turn out the dough onto a piece of plastic wrap or wax paper. Press dough together into a large ball. It should just hold together when pressed. Continue to turn the dough while pressing into a ball until it sticks together.
7
Once the dough is compressed and holds together nicely, divide into two small loaves. Press these firmly as you form. Coat each loaf with 1t olive oil to prevent cracking. Dehydrate at 145°F for 1 hour and then turn the temperature down to 115°F for 8-10 hours.
8
You can also use a conventional oven if you do not have a cabinet dehydrator. Place loaves on a raised cookie rack while baking at 200°F for 3-4 hours.
9
For more flavor and variety, savory herbs can be added to taste.
Amount per serving

Calories

1,238

% Daily Value*

Total Fat

63 g

87.5%

Saturated Fat

5.17 g

25.85%

Trans Fat

0.01 g

Polyunsaturated Fat

27.01 g

Monounsaturated Fat

27.53 g

Sodium

1793.75 mg

77.99%

Total Carbohydrate

160.86 g

58.49%

Dietary Fiber

98.8 g

352.86%

Total Sugars

43.13 g

Sugar Alcohal

0.73 g

Protein

30.31 g

60.62%

Calcium

426.42 mg

32.8%

Iron

7.77 mg

43.17%

Potassium

1727.04 mg

36.75%

Vitamin A

45.39 mcg

5.04%

Vitamin C (Ascorbic Acid)

21.69 mg

24.1%

Vitamin E (Tocopherol)

18.62 IU

56.42%

Vitamin K

6.02 mcg

5.02%

Vitamin B1 (Thiamin)

1.32 mg

110%

Vitamin B2 (Riboflavin)

1.04 mg

80%

Vitamin B3 (Niacin)

5.24 mg

32.75%

Vitamin B6 (Pyridoxine)

0.72 mg

42.35%

Folate

118.42 mcg

29.61%

Vitamin B5 (Pantothenic acid)

1.24 mg

24.8%

Phosphorus

854.66 mg

68.37%

Magnesium

475.67 mg

113.25%

Zinc

5.39 mg

49%

Selenium

20.53 mcg

37.33%

Copper

1.76 mg

195.56%

Manganese

3.53 mg

153.48%
* The % Daily Value (DV) tells you how much a nutrient in a serving of food contributes to a daily diet. 2,000 calories a day is used for general nutrition advice.